At the beginning of the year, come to Malaysia to experience the brilliant spring days
When the weather is still cool in the spring, when work, study is not too busy, carry backpack to visit the new land. The exciting experience you have on your trip will open up a year of inspiration and excitement.
One of the most attractive destinations in Southeast Asia is Malaysia, a large country with many enchanting tourist destinations. Get off Kuala Lumpur to experience the unique indigenous culture and then fly across the open ocean to the enchanting nature of Kota Kinabalu. These are ideal locations for a 5 day trip. night in Malaysia.
See  more:
Day 1: Arrive Kuala Lumpur in the New Year
From Vietnam, it takes about 2 hours to fly to Kuala Lumpur, the most dynamic city in Southeast Asia. Should book your hotel in China Town or Bukit Bintang area. There are many good cheap hotels in the center that are convenient for moving to destinations.

Evening is the time to enjoy the special street food in China Town, Chinatown famous by many affordable bar.
Day 2: Visiting famous works
The second day in Malaysia is for visiting interesting destinations in the city. The capital of Kuala Lumpur is modern and bustling, with many famous landmarks, shopping malls crowded with tourists.

Kuala Lumpur is also known as a shopping paradise, with many shopping malls ranging from designer to casual.
Day 3: Fly to Kota Kinabalu to see beautiful nature
Farewell to Kuala Lumpur, it takes about 2½ hours to get to Kota Kinabalu early morning flight. Kota Kinabalu International Airport is small but clean, modern and not too crowded. You only take 10 minutes by taxi or bus to get to the center. Kota Kinabalu is the capital of the state of Sabah, although in eastern Malaysia, but when you fly here, you still have to do entry procedures and will be stamped a small seal in the passport.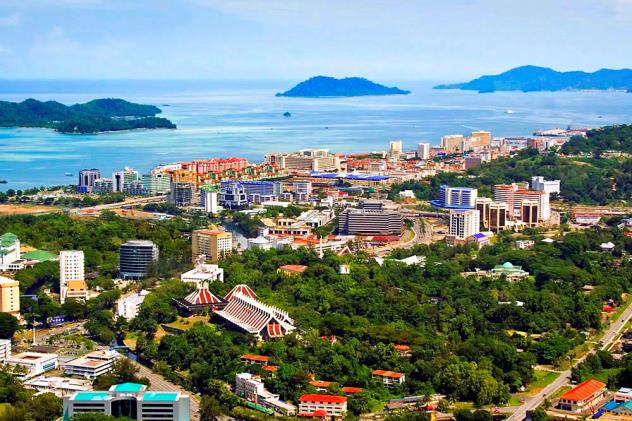 The market also sells many fresh tropical fruits such as mango, watermelon, banana, mangosteen, and local handicrafts, or dried seafood seasoned. One point to note is that the market is open from 5 pm to noon.
Day 4: Dive into the vast ocean or conquer the bushland
From Kota Kinabalu you can choose to explore the forest or experience sea tourism. You arrive at Jesselton Point Pier to buy tickets to the island. It takes about 20-30 minutes to travel by small boat or canoe from the mainland to Tunku Abdul Rahman National Park, off the coast of Borneo, including five islands including Gaya, Sapi, Manukan, Sulug and Mamutik. On the island, you have to buy more tickets for 20RM once and can use for many other islands.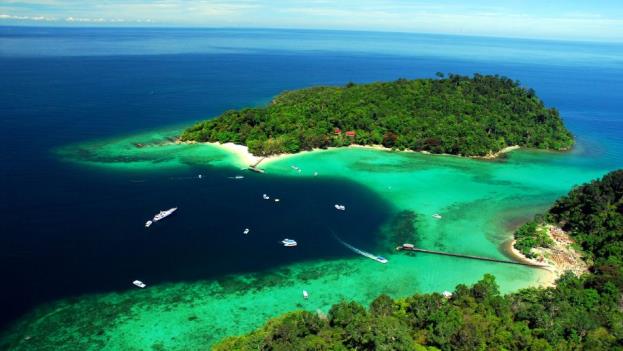 This is a paradise for marine activities such as snorkeling, or experimenting with cable shows across the sea.
Day 5: Finish the journey "go back"
From Kota Kinabalu, board a flight to Vietnam for transit in Kuala Lumpur. Beyond the fatigue of the long journey, the results obtained after the trip will be extremely satisfying.
After the days lost in Malaysia, the young man receives the true experiences, wonderful memories and understanding of a multicultural nation. All will fill the living capital, filling the confidence of young people in the journey to find their own ego, open their eyes and nourish the desire to conquer the world.
Currently, AirAsia Airlines applies preferential fares (including one way tax) to direct flights from Ho Chi Minh City / Hanoi / Da Nang / Nha Trang to Kuala Lumpur from $ 31. Flights from Ho Chi Minh City / Hanoi / Nha Trang to Kota Kinabalu (connecting Kuala Lumpur) from $ 75. Promotion period from now until March 4, 1818, applicable for flights from now until the end of August 31, 1818. Readers will book here.
Started in operation in 2001, AirAsia has carried over 330 million passengers and owned more than 200 aircraft. The airline is headquartered in Malaysia, Indonesia, Thailand, the Philippines, India and Japan, with a network of over 120 destinations. AirAsia is honored with "World's Best Low Cost Airline" for nine consecutive years from 2009 to 2017, and received the World Travel Awards in the "Best Low Cost Airline" category for five consecutive years. 2013 to 2017.