Surfing Instagram from Europe to Asia is know beautiful cherry flowers season has really come!
In many countries of the world such as Korea, Japan, England …, this is the best time of year to look at the blooming cherry trees.
Cherry blossoms, hear the name is no stranger but to see the eye, touching each fragile petal it is not everyone has the opportunity. In many countries in the world such as Korea, Japan, Taiwan, China, England …, end of March and early April is the best time to watch the cherry blossom. Proof that for a few days, surfing Instagram where there are also people are taking photo check-in with beautiful cherry flowers.
See more:
Take a walk around the cherry blossoms in some countries and take it as a motivator to save the trip in the future!
Japan
Referring to this country is to think of the familiar name "Land of cherry blossoms." The most popular is from late March to early April. There are many low cost airlines like Vanilla Air, Cathay Pacific or Air Asia for your choice with an average roundtrip price of $ 600 (range less than 13 million). To move between the flower viewing points you should select high-speed train or bus to save. Also choose the hotel near the bus station, trains for convenience and remember to leave early room lilac !
Some of the most popular places to see Japanese cherry blossoms are Tokyo's Ueno Park, Tokyo's earliest blooming spot, Hirosaki Park, Aomori or Mount Yoshino, Nara is considered one of the ideal places. to see flowers. Note that all three locations are very hot so you enlisted early to have a beautiful view of the flowers.
And do not miss eating traditional Japanese food such as sushi, udon, rice cake, Sukiyaki, Kaiseki Ryori … The cost of a trip depends on the purpose, average self-drive 7 days is about 30-40 million.
Korea
South Korea is the destination to see sparkling cherry blossoms, fanciful no less than Japan. Traveling in kimchi country in the spring of March, April is the most beautiful. Affordable airlines are Cathay Pacific, Asiana Airlines, if booked early for only about 10 million for round-trip tickets. Or the cheapest is Vietjet Air with the price of 3 – 7 million / pair round-trip.
Traveling in Korea, you can choose a train or taxi. If not, you should eliminate the idea of ​​travel by taxi because the taxi in Korea is quite expensive. Trams are cheap, safe and not cheap in Seoul. If you want to see the street, choose a bus. Hotel prices in Korea are not too high, only 800k – 1trieu / double room full of amenities and clean.
In Korea, each province has its own blossoming time due to climate effects such as Busan: March 25-April 4, Seoul: April 9-15, Incheon: April 12-17, etc. Seoul, you can visit the Yeouido Spring Festival or the Seokchon Cherry Garden to experience the pink space. In Busan, there are two large flower associations, Jinhae Gunhangje and Gyeongju.
After seeing the scene, we can enjoy some delicious Korean food such as Kimchi, Bibimbap, Hotteok (pancake), Yangnyeom Tongdak (fried chicken), Tteokbokki rice cake, … to the land of kimchi in five days to 25 million.
England
Watch cherry blossoms in England? Sounds impossible, but it's true. At present, the temperature in the UK is going down quite low, there are places that fall only 5-7 degrees Celsius, creating favorable conditions for cherry blossoms. The most beautiful cherry blossom is London.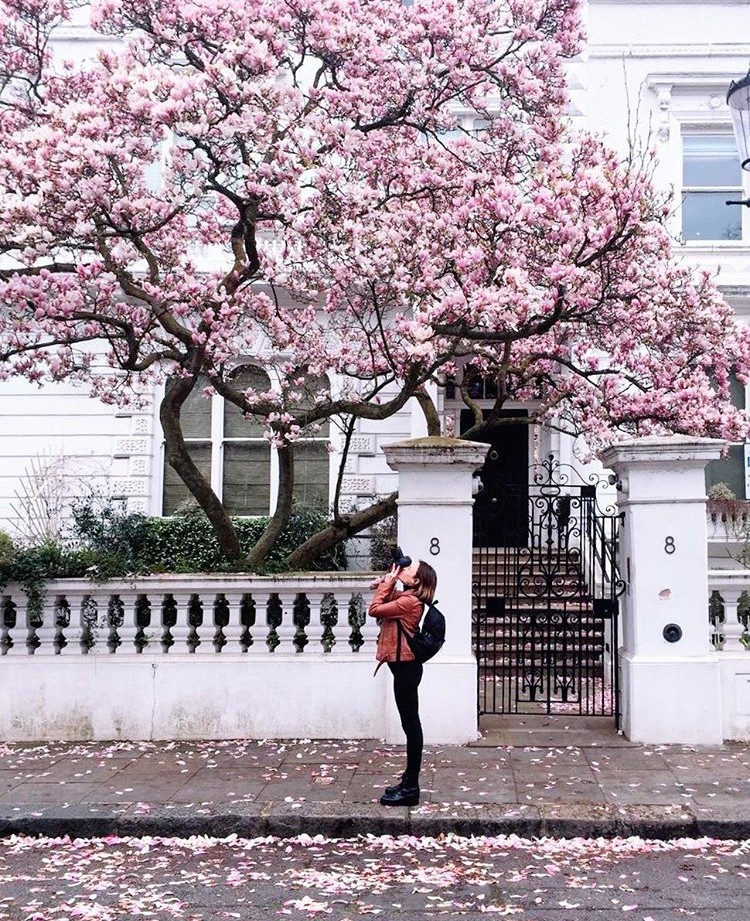 Normally we can catch three types of cherries in London. The first flower has five wings, petals and petal are pinkish. The second type also has five wings but the wings and stamens are white. The third type is like cherry blossoms in Japan, blossoming in bunches and pink in color. The white and pink cherry blossoms hatch in the golden sunshine of the ancient roofs, creating a very romantic look for London in the spring.
In London, the most beautiful cherry blossoms are South Kensington and Notting Hill. The streets with a series of white villas, the two sides of the road are shady cherry blossoms ensure that everyone will be ecstatic when watching.
Traveling in Europe would be a bit more expensive and a bit tougher to get a visa. However, if you prepare now for both financial and related papers, you can definitely think of a spring trip to cherry blossoms in the heart of London next year!